Let's face it — dogs can be a handful. Whether they scratch at the carpet or make a mess when coming inside from the rain, dogs are a lot to handle sometimes. Add a brand new baby into the mix, and suddenly things get a whole lot more hectic. Of course, you can train your dog to be more gentle around your newborn. Here's how!
Understand that your dog will need some adjusting. Dogs are habit-based creatures, just like most animals. Because you'll be bringing an entirely new scent and body into the home (and probably changing some of your own routine), your dog might take some time to get used to the situation. It's important to make sure that you've invested in items that will help keep your dog safe during this hectic adjustment period, such as a dog tag tracker in the event the dog gets out while you're busy attending to your crying newborn. Without this mindset, you and your dog will find it even more difficult to adjust to the new situation.
Condition your dog not to enter the nursery unless allowed. Part of training your energetic dog to be more gentle around your newborn is training your dog to respect boundaries. Reminding your dog that you're the leader of the house is always a good idea, and you can do that by restricting their time in the nursery! Before bringing the baby home, be sure to practice bringing your dog into the nursery and then shutting them out of it. This will give your dog the idea that they can't always go into that space, which will really help you out on those nights where you have to sleep in the nursery because the baby is sick or isn't sleeping well.
Maintain some of your routine. An energetic dog needs to be exercised! One of the ways you can train your dog to be more gentle with your newborn is to take your dog out while your newborn is still sleeping. While one of you stays inside, the other should go walk the dog. A longer walk is better so that your dog is slightly more worn out when they arrive back and the baby is up and out of the nursery. They'll be so exhausted that they won't go running or jumping! And, while many new parents find it difficult to maintain their routine right after childbirth, it's important that you try to maintain the same feeding and walking times with your dog. Without these consistencies, it opens the door for your dog to start exhibiting behavior issues, which won't make it easy to control them around your newborn baby.
Ask for help. If you find yourself struggling to keep up with your newborn and your dog, it's okay to ask for help! Friends, family and even neighbors can step in and keep the dog on a routine for you so that you can catch up on sleep or focus on the baby. Being a new parent is tough, especially if it's your first child. Asking for a support network to step in is never a bad thing. Just make sure to update your dog ID tags so that anyone helping you out has all the necessary information they need should an issue arise!
Bring home something of the baby's first. One of the main reasons energetic dogs pose an issue with new babies isn't from aggression but rather curiosity. Each person has a unique scent, and that scent is what dogs use to determine levels of threat. In fact, dogs have a sense of smell that's well over 10,000 times more acute than humans! This means that dogs will be able to easily tell when there's a new scent in the house, such as a new baby. In order to make their surprise at the new scent a little less energetic, bring something home from the hospital that the baby's used before bringing the baby home. You can bring a bib, a onesie, a hat or even a burp cloth to make this easier. Let your dog sniff the item, but only let them sniff it for a specific amount of time. You'll want to take it away so that you can establish that the scent is yours and the dog is only allowed to sniff it when told. Bring items home every day from the hospital so that the dog gets to smell the items more than once. Ideally, your dog will come to recognize the scent and won't get overly excited or confused by it when you bring the baby home.
Take the dog out while mom arrives home with the baby. So that your dog doesn't overexert themselves or scare the baby, take them out while mom comes home. That way, mom can shower and change into clothes that smell more like her instead of the hospital, and the dog gets some outdoor play time prior to coming back indoors. Then, since mom won't be in an unfamiliar scent, your dog will be much calmer.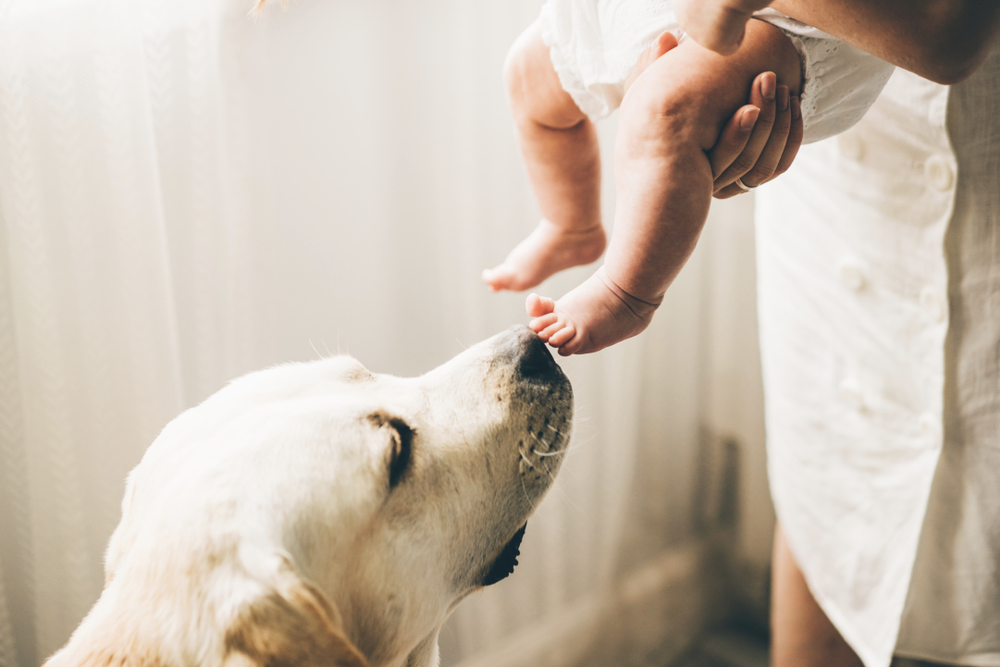 Invest in a dog trainer. Trying to train your dog by yourself with a new baby in tow is a tough job. Instead, consider hiring a dog trainer to help you out during this time. The dog trainer will work with you to help your dog learn not to jump on people as they're holding the baby, not to charge at the baby and countless other behaviors that you might not even realize your dog might do with the new baby around.
Spend time with your dog. You'll still want to spend some time with your dog, such as playing in the yard or cuddling on the couch. Dogs who feel neglected will start to act out, much like children! Giving your dog some TLC while the newborn is resting is a great way to continue bonding with your pup and keeping them from acting out and behaving poorly.