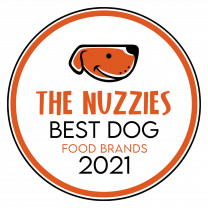 If you're picky about what you like eating, don't be surprised if you dog is too!
1

18

First Mate Dog Food

2

14

Boreal Dog Food

3

13

Canisource Dog Food

4

12

Bold Raw Dog Food

5

12

Canada Fresh Dog Food
Whether it's special treats or specific types of food you're looking for, these food brands offer the highest-quality foods for your four-legged friends.
FirstMate Pet Foods is a family-owned and operated pet food manufacturer that began in 1989. Originally, the mission of the company was to make a high quality, fish-based dog food to keep dogs from eating the fish feed on salmon farms.
Since then, it has developed into a global company that offers a variety of pet foods to meet the nutritional needs of pets in all walks of life. Quality control is assured with each of their products that is produced.
Boreal is produced by Lincoln Biotech, a family-owned company run by two brothers (one of which is a veterinarian) with over 20 years of experience in the pet industry. Boreal's approach is to provide pets with diets similar to those of their ancestors.
They produce products that are high in simple proteins (i.e. salmon, turkey, lamb), low in starch, and that rank low on the glycemic index in order to give dogs a more consistent source of energy. Their main goals are to promote a healthy weight, decrease symptoms caused by food allergies, and encourage overall wellness in dogs.
CaniSource produces raw dehydrated dog foods that use ingredients of human-grade quality and retain the maximum amount of nutrients possible through their slow, low-temperature dehydration process.
They make two lines, Grand Cru and Homemade, using dehydration and low temperature baking, respectively. Both products are in a scoop and serve format, requiring no rehydration, refrigeration, or any of the other hassles associated with dehydrated or raw diets. Feed like kibble, but better.
Bold Raw is a premium Canadian producer of natural raw food for dogs and cats. Bold Raw formulas were developed by a team of experts, veterinarians, and is backed by 15 years of pet industry experience. Bold Raw uses fresh ground meats, meaty bones, tripe, organ, and kelp to ensure that all nutrients were as abundant and as natural as possible.
Canada Fresh is the newest brand addition to the Petkind family. Canada Fresh ingredients are proudly sourced from Canadian farmers, with the exception of their salmon, which is sustainably sourced from Europe. Canada Fresh is only offered in a wet food diet format, and can be fed as a complete diet or as a complementary diet.
Gather was designed to focus on environmentally sustainable, cruelty free formulas for pet owners who really wanna feel good about what they feed their pets. All gather products are GMO free, certified organic and hormone and antibiotic free.
As advocates of raw and natural whole foods diets, Carna4 founders Dave and Maria saw a calling for a less labour intensive alternative to fresh raw diets. The brand name is derived from the Roman goddess Carna, who was believed to protect their internal organs, helping their bodies get complete nourishment from their food.
Carnivora has been manufactured in Canada since 2003, but the owners have had over 20 years of experience in the raw pet food industry. Carnivora has developed a wide range of whole animal carcass diets in patty form for dogs.
Their products are processed at very low temperatures and then flash-frozen to preserve freshness. Carnivora patties include almost the entire animal protein source, excluding parts such as feathers, intestines, hooves, horns, and bladder. They also offer whole raw meat bones (chicken necks and chicken backs), which are great for smaller dogs.
go! dog food is produced by Petcurean – an independently owned Canadian pet food manufacturer that was founded in 1999. go! Solutions is rich in nutrients and provide dogs with a high-quality diet that supplies essential nutrients and energy.
Pet-Fit offers a wide range of balanced menus with all the necessary ingredients.
This concept also appeals to animal rights activists and vegetarians / vegans, for whom it is important that the animals are not stressed or driven across the country before slaughter. Petfit works with a few small suppliers from the Petfit region (Kirchwalsede in Lower Saxony).
ACANA is produced by Champion Petfoods, which has been in the pet food industry for 25+ years. ACANA uses a combination of fresh, regionally-sourced ingredients from Canadian farmers and fishers to make a food that closely mimics the diets of your dog's ancestors.
They incorporate a whole prey diet (includes fresh meat, organs, marrow, and cartilage) to provide dogs with a biologically appropriate food that is rich in high-quality protein. ACANA formulas are cooked slowly at low temperatures (90 C/195 F) in order to preserve as much of the flavour and nutrient content as possible.
Want to be added to this list?
Click here
to bring up our submission form. We will be in touch shortly with feedback.