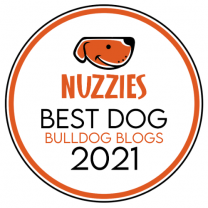 Here are your Labrador's favorite Bulldog blogs...
1

14

Lankas Labs

2

13

LABRADOR TRAINING HQ!

3

12

The Labrador Site

4

11

Labrador Friends

5

7

Endless Mountain Labradors
Learn about Labrador direct from passionate owners and businesses who can only be considered enthusiasts of this furry little friend.
Call Lankas Labs for pointing labs for sale from experienced pointing labrador breeders. We offer black, charcoal, chocolate & more.
Follow for Labrador obedience training, house training, crate training, health and everything you need to know to live with and care for Labradors and lab puppies.
Labrador Retriever information. The Labrador Site is the ultimate guide to buying, raising and training your Labrador from puppy to senior dog.
A non-profit organization, dedicated to the rescue and placement of homeless Labrador Retrievers in the Southeast.
For the Discriminating Labrador Lover. Since 1988, we have been a reputable breeder of AKC, English Labradors for family, show, and field. Labs are a wonderful breed, and we are proud to be a part of their history.
Want to be added to this list?
Click here
to bring up our submission form. We will be in touch shortly with feedback.