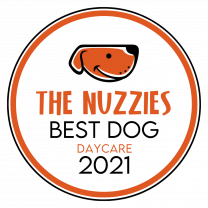 Everybody gets lonely sometimes. Especially your dogs, when they're stuck at home waiting for you to get home from work.
1

12

Lucky Dog Daycare and Boarding

2

10

Doggie Depot

3

9

Fit Dog Chicago

4

9

Happy Tails & Trails

5

8

4 Paws Playhouse
But it doesn't have to be that way! When you're not home, your furry family members can stay at one of those awesome daycare centers and have plenty of fun playing with other pets and the personnel!
Lucky Dog Daycare and Boarding is a family owned and operated business that offers thorough care services to canines in the Lisle area. The facility is equipped with roomy play areas, air conditioning, spacious outdoor playgrounds, rubber floors, and safety certified staff to cautiously provide day play, overnight boarding, training, and complete grooming services. Lucky Dog Daycare and Boarding is a member of the Pet Care Services Association.
Doggie Depot is a dog daycare center that provides spacious play areas for neighborhood dogs throughout the Downers Grove area. Its well trained staff members cater to small, medium, and large breed dogs with thorough, personalized daycare, overnight boarding, training, and grooming services. Doggie Depot is a fully insured facility and is licensed by the Illinois Department of Agriculture.
Fit Dog Chicago is a dog daycare center that provides personalized care services for furry guests throughout the Chicago metropolitan. The company specializes in daycare activities such as exercise, socialization, pack leadership, and basic command training and also offers doggy shower services involving shampooing, basic brush-out, and towel dry showers. Pet owners commend Fit Dog Chicago for its professional, friendly, and attentive staff.
Happy Tails & Trails is a full-service pet daycare center that provides play and relaxation activities for domestic animals in the Chicago area. The business was established in 2001 and has since offered on-site and in-home pet services such as dog daycare, boarding, cat care, infant puppy play, pet sitting, dog walking, and specialized care for exotic pets such as birds, frogs, snakes, turtles, lizards, hamsters, and gerbils. Pet owners commend Happy Tails & Trails for its accommodating, dedicated, and caring staff.
4 Paws Playhouse is a locally owned and operated business that provides individualized care for dogs in the Oak Forest area. Its well-trained team specializes in cage-free boarding and daycare services and strives to help dogs build confidence and positive social behavior by fostering a stress-free environment for pets. Pet owners commend 4 Paws Playhouse for its warm, attentive, and professional staff members.
Citizen Canine is a dog daycare facility that has been serving pet owners throughout the Chicago metropolitan area for over 21 years. The business specializes in daycare, boarding, transportation, dog training, and grooming services and also offers a diverse selection of pet products which include toys, cards, leases, treats, apparel, and grooming supplies. Citizen Canine has been featured in Chicago Tribune, Chicago Sun-Times, Chicago Magazine, Chicago Social, and Daily Herald.
Happy Pet Place is a family-run dog daycare facility that provides various learning and play activities for canine pets across the Roselle area. The business has over 20 years of experience in daycare, boarding, and professional dog training services. Happy Pet Place offers handling and training with only positive reinforcement following the LIMA approach. All products used at the boarding facility are all natural and holistic, including grooming, cleaning, and feeding products. Happy Pet Place's staff stays overnight with their furry clients so the dogs can sleep around a human, in a private doggy bedroom, or in big comfy crates with soft beds. The facility is also fully equipped with expansive indoor climate-controlled playrooms, outdoor playgrounds, and agility courses. Past clients commend Happy Pet Place for its honest, friendly, and caring staff.
K9 University Chicago is a dog boarding center that has been providing individualized care services for canines across the Chicago metro for over 24 years. The staff specializes in handling daycare, boarding, training, and dog grooming amenities and offers additional services such as private lessons, day training, individual play, nail clip, and bath. The facility also hosts puppy parties, dog meetups, and dog open play. K9 University Chicago is accredited by the Better Business Bureau (BBB).
Playful Pets Inc. is a daycare and boarding center that offers expansive play spaces to neighborhood dogs across the Chicago area. The facility is equipped with 3,000-square foot indoor and outdoor play areas as well as various physically and mentally stimulating activities to provide pets with enjoyable daycare and boarding experiences. Pet owners commend the staff members of Playful Pets Inc. for being accommodating, friendly, and trustworthy.
We have a canine-approved indoor/outdoor playspace and we want you to join our team. All dogs must be temperament screened and have proof of vaccinations prior to being added to our roster. Please fill out a New Client Inquiry to begin the process of setting up your dog's tryout. Its necessary you need our help at least once a week, every week, to join.
Want to be added to this list?
Click here
to bring up our submission form. We will be in touch shortly with feedback.