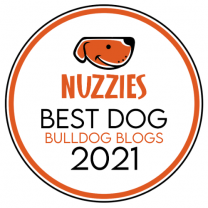 Here are your Bulldog's favorite Bulldog blogs...
1

12

English Bulldog News

2

8

The Bulldog Blog

3

7

Our Frenchie

4

6

The Bulldog Blog

5

5

Frenchie Store
Learn about Bulldogs direct from passionate owners and businesses who can only be considered enthusiasts of this furry little friend.
The #1 forum for the English Bulldog enthusiast! Share photos, stories, advice, get help and access member only features and forums.
We love English Bulldogs and enjoy sharing everything we learn about them. The Bulldog Blog is a free resource where you can learn everything about this adorable, wrinkly breed.
A married couple who owns a French bulldog. Information they learned about French bulldogs, over the past years, they like to share with the world.
Learn about Bulldog health, training, fashion and breeding from Castlewood.
Helpful information on the French Bulldog, pug, English Bulldog and many other breeds. Expert pet advice brought to you by Frenchiestore. Find helpful information, pet-related news and health conscious pet products.
Want to be added to this list?
Click here
to bring up our submission form. We will be in touch shortly with feedback.