Most people place lots of thought into brainstorming the perfect female dog names. Our dog's name is an excellent way of showing a bit of personality. Just like human names, dog names rise a fall in popularity.
Pop culture is very influential after the film Frozen came out, there was a 900 percent increase in dogs named after the characters. Names from Star Wars and The Twilight films have also been popular.
Since your dog's name will be heavily used for training here are some tips to avoid confusion.
Select a name with hard consonants and 1 or 2 syllables. These are short enough to get your dog's focus and the simplest to say
Stay away from dog names that sound like an order, names like Kit, which sounds like sit, or Bo, which seems like no.
Here is a list of the top 100 female dog names for some inspiration.
Abby
Allie
Angel
Annie
Athena
Baby
Bailey
Bella
Belle
Bonnie
Brandy
Cali
Callie
Casey
Charlie
Chloe
Cleo
Coco
Cocoa
Cookie
Daisy
Dakota
Dixie
Ella
Ellie
Emma
Gigi
Ginger
Grace
Gracie
Hannah
Harley
Hazel
Heidi
Holly
Honey
Izzy
Jasmine
Josie
Katie
Kona
Lacey
Lady
Layla
Lexi
Lexie
Lilly
Lily
Lola
Lucky
Lucy
Lulu
Luna
Macy
Maddie
Madison
Maggie
Marley
Maya
Mia
Millie
Mimi
Minnie
Missy
Misty
Mocha
Molly
Nala
Nikki
Olive
Peanut
Pebbles
Penny
Pepper
Phoebe
Piper
Princess
Riley
Rosie
Roxie
Roxy
Ruby
Sadie
Sally
Sandy
Sasha
Sassy
Scout
Shadow
Shelby
Sierra
Sophie
Stella
Sugar
Sydney
Trixie
Willow
Winnie
Zoe
Zoey
Still didn't find the perfect name? Check out our full list of the 50 Greatest Dog Names.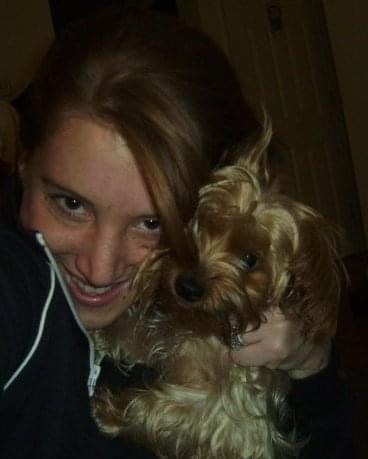 Most of my day is spent playing with dogs. When they nap, I'm here working on my blog. You're welcome to reach out and connect with me.